I have good news for you at the start of this brand new week!
But before that, let me share a short story when I was still a first-time mom almost 7 years ago.
When I had my first child, one of my small finance goals is to earn extra income while being a full time mom to our eldest. I started with small goals so that I would feel motivated each month. Since I love to write and I was given the opportunity to contribute to publications, one of my goals then was to write at least 1 art​icle each month and have it published. Then, as I got more used to writing freelance, I made bigger goals for myself and made it two to four articles each month. Earning additional income for our family through one of my favorite hobbies while being a hands-on mom to our eldest child made me happy and fulfilled.
But writing articles can also takes up a lot of time. Our eldest son grew older and he slept less often. Eventually, he outgrew nap time. He's awake most of the time after lunch. Thus, it has become a challenge for me to write articles because I usually did this task while he's asleep.
I also gave birth to two more children so my hands are usually full (figuratively and literally).
Another way by which I earn not from home but outside the home is by giving talks, trainings and workshops. This kind of work pays higher compared to writing but it requires me to be out of the house and to look for someone else to watch over my kids while I am working. Thus, I decided to conduct workshops and trainings less frequently because I want to invest more time building the foundations of my marriage and my relationship with my children.
As my circumstances changed over the years, I searched for new ways to earn from home that did not require a lot of my time or that required me to be away from my kids. Even though I wanted to stay home most of the time with my kids, I also wanted to contribute to the family income because our family has grown bigger. This led me to come up with a digital program or an online coaching program called iHOPE. I decided to use my expertise as HR practitioner and my experiences as a parent to develop a program that will enable me to help other parents to have a richer and stronger relationship with their children. I was happy to come up with a product that enables me to be hands-on with my kids, earn from home and be of help to other parents and families.
I launched this product on my 40th birthday a few months ago. :) You can read about what moved me to have the courage and confidence to launch it then here in my previous post.
Today, I want to share with you the opportunity to earn extra income each month through our Hands-On Parent while Earning Affiliate Program. Do you want to earn extra income each month without you doing a lot of work? Is this something that will benefit your family?
If your answer is YES, you need to keep on reading.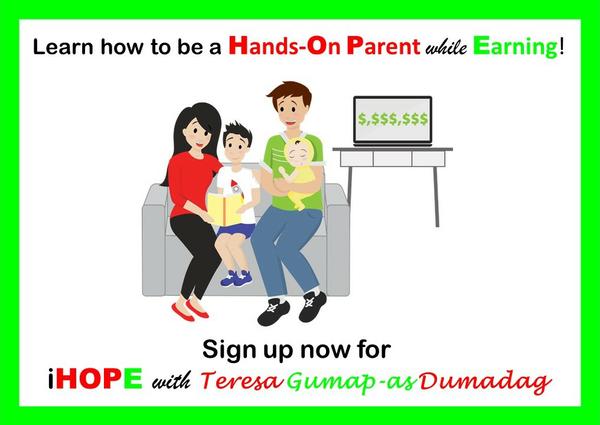 If you know of parents who may benefit from this program and who are willing to invest in their relationship with their children, I invite you to register to become one of our Affiliates. You can earn a commission every time a person to whom you shared our program to decided to sign up for it or to purchase our product.
For example, if one of the people you shared our program to through email purchases the iHOPE Coaching Program, you earn a commission. If for example, you promoted the iHOPE Coaching Program in your Facebook Account and one of your friends signed up for it, you earn a commission.
Your commissions accrue and once it reaches the minimum amount for payout each month, you will receive payment from us for helping us spread the word about our life-changing program.
By doing this, you not only partner with me in encouraging more parents to become hands-on with their kids, you also help me help more families to be stronger. You're helping me help more children to become happier and more parents, fulfilled! Now, while you are advocating hands-on parenting, you earn at the same time. Isn't that great?
You can register to become one of our Affiliates by clicking this link. The details of the Affiliate Program are in the Terms of Use. Just hover your mouse over these words and click that link and you will be taken to the page where you can read all the information about our Hands-On Parent while Earning Affiliate Program.
Should you have any questions about our Affiliate Program, feel free to email me at teresa@handsonparentwhileearning.com with subject Affilliate Program.
You may also read more about the iHOPE Coaching Program here.
I look forward to having you as our fellow Hands-On Parenting advocate and Affiliate!